Gizelle Loots, aka Gigi, is the founder and almost mythical creature behind the beloved Banting Baker Gigi phenomenon that's been taking the keto community by storm. If you don't know this story of near legendary hypergrowth, get ready to dislocate your jaw! 
Wait, did you say 'stuntwoman'?!
"[In the early 2000's] I was approached by Stunt and they said, "We want girls who are fearless!" No kidding – check out her video tutorial on how to get hit by a car (several times) here. "My first movie was with Patrick Swayze, in 'King Solomon's Mines' (see Gigi in action here), and then I did 'Flight of the Phoenix' with Dennis Quaid. I was a stuntwoman for eleven years." 
"In between movies, I'd work at my dad's gym as a personal trainer. So, I've always been involved in helping people with health and fitness. It came full circle when I started this business and embraced the healthy living that comes with it." Gizelle now realises that all along, her calling has been to help people, whether in the gym or on the plate.  
When asked what's scarier: starting a business or being a stuntwoman, she laughs. "Definitely starting my own business! I'm an adrenaline junkie, but this is something else!"
Fittingly, the birth of Banting Baker Gigi happened once upon a time, almost accidentally, in a land far far away (aka the internet). Legend has it that Gigi baked her brother a keto loaf, and posted it on social media. "I had lots of followers, thanks to the movies. People started reaching out wanting to buy. But I'm not a baker! Anyway, every time I made a batch, I'd just sell whatever I had online." 
Then, the Bay Harbour Market heard about her, and offered her a stall, giving her the opportunity to skip their 100 strong waiting list, so desperate were they to also cater to the gluten-free and banting community. 
When Gigi started at the market, her banting loaves sold out every day. "I quickly realised that I'd need to teach myself how to cook properly. And that I'd need a lot more than two breads. So every single day I was in my kitchen at 3am, trying out different recipes. Back then it was all trial and error. Over the years I've learned so much. I knew nothing about food. I knew nothing about this industry. My costings were all wrong, so I didn't make a profit for a long time."
"Then Mojo Market reached out to us, because our name spread fast on social media. All of a sudden, I'm getting approached by companies who want to sell my products. But at that stage, I was just working from home! They seemed to think I was a lot bigger than I was. Only after the first year, did I move the baking offsite. When we started working from Mojo, we really got proper traction: we were on Pasella, and then our online business just exploded."
Gigi's Industrial (Online) Revolution
In 2019, Gigi decided that it was time to leave the markets and focus on the booming online demand. "I realised that however great markets are for growth, the business had outgrown that scene, and our online business was bigger. That had to be our new focus. We just couldn't run our business from a market anymore." 
"So we decided to move our operation to an industrial park, (which is where we still are today) and rather focus on production. Everyone said I was crazy, because I have no visibility in an industrial park in Paarden Eiland, but I said 'social media'! I can't tell you how busy our shop is! We're totally hidden away, but social media is what gets every customer through my doors."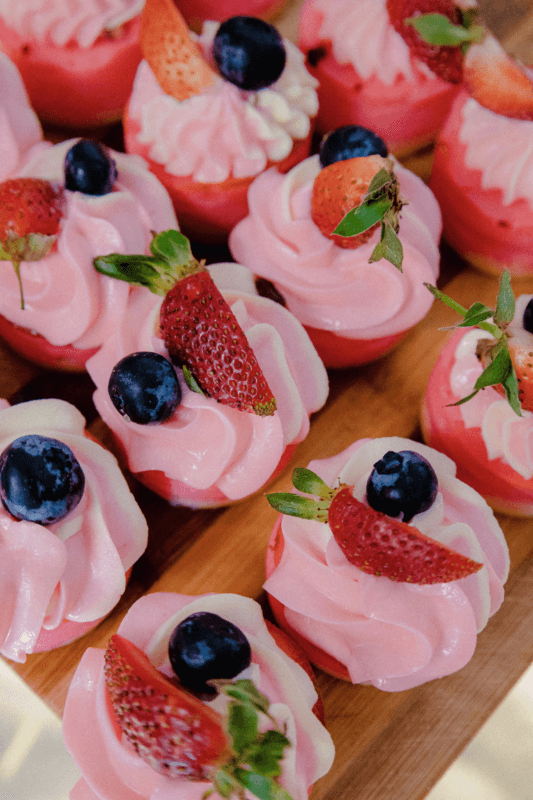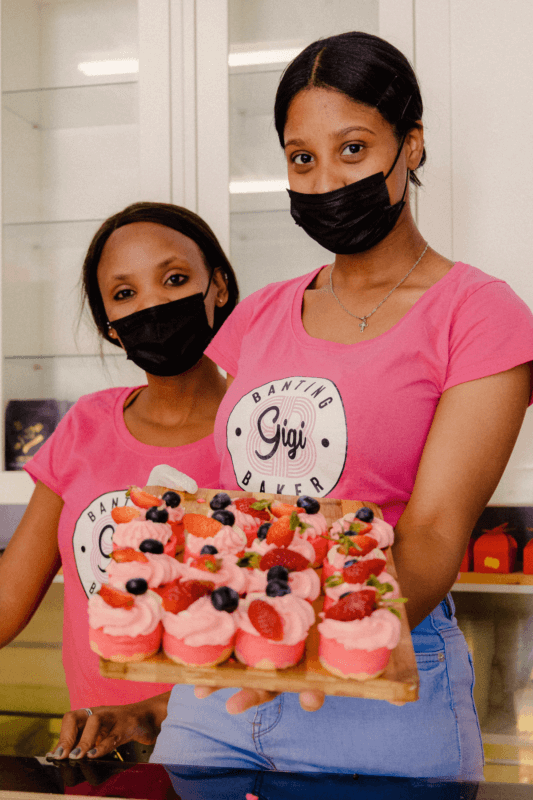 Pivoting like a Pro (not a stunt)
"Then lockdown happened, and we just exploded again… In March 2020, we had a tiny kitchen and a tiny shop [in the industrial park]. Level 5 lockdown hit, and I realised I had to somehow keep this business alive. So, I applied for a permit to distribute diabetic meals and cakes. I came in every morning and just started cooking on my own, and (sadly, *laughs*) doing all the dishes and cleaning – all my staff had to stay home." 
Building a Banting Empire
Gigi quickly realised she needed to increase production, and fast. So, she took up her first Yoco Capital offer and upgraded her operation to meet more of the seemingly insatiable demand for Banting Baker Gigi. She also moved to larger premises in the same industrial park, "If I didn't have the ability to get that cash advance, I probably wouldn't be where I am today. Because I was able to buy the fridges and ovens that I needed at a crucial time for my business. At that stage, no bank was giving out any loans. Let's be frank: our whole country was in crisis, businesses were closing down left,right, and centre – to try to get a bank loan was just impossible."
But, there was no time to celebrate her massive success, "It hit me: what if lockdown happens again? I needed a product that doesn't require staff, that was ready-packaged and ready to go into stores. I spent days online, researching and looking at keto forums to chat with people. Eventually, I spoke to this lady from Singapore about importing konjac pasta: a root that, once processed, is all fibre with zero net carbs. We can't get enough of it into the country at the moment! But I had to pay for packaging and buy all the stock upfront to get it shipped in, before I could sell it – it's a massive financial outlay. That's when I took up my second Yoco Capital offer. And the numbers are just growing every time we order: 15 000 units were gone in a month and a half.It's what's missing in the keto community – people are looking for rice and pasta. Our business grew 500% in three months!"
"My brother helped me come up with franchising package deals, and now there are Banting Baker Gigi stores in Kloof Street Cape Town, Tableview, Tygervalley Centre (opening in Feb), Somerset West, Worcestershire, Paarl, Stellenbosch, and Benoni. In one year, we sold eight franchises."
What's next for Banting Baker Gigi?
"Our biggest business right now is our meals. I'm a qualified nutritionist and I work out all the meal plans myself. We then have fasting challenges to help people lose weight and get healthy: they get all the meals they need, we do intermittent fasting together, and we're there to coach them 24/7 to help them reach their personal health and weight goals." 
Gigi's next big move is to outsource the meal preparation, so she has the space (and time) to focus on expanding her line of Gigi keto products. "All the products we currently buy in from other places, must all become Gigi products. Everything inside a Gigi store should be produced by us. I really want my own all-pink, branded line." 
She plans to make that happen by continuing to take up her Yoco Capital offers.
When asked how she manages to do so many things at the same time, and keep working so insanely hard (while fasting), no matter what gets thrown at her she smiles, "A lady came up to me and gave me a hug, and told me she was in a wheelchair before she did my challenge – she'd lost something like 23 kg. To see her walking into my shop like that, when she was almost bedridden for life, makes you realise this is not just about selling food. We're changing people's lives, we're helping people to manage their illnesses, and we're helping them find their way back mentally. This is so much bigger than it looks." Um… It looks pretty big to us! We can't wait to taste the next phase of the Gigi revolution, and watch this special business's legend-worthy evolution unfold even further.
Grow your business with a cash advance