Last year saw some exciting developments in the world of marketing, and this year will prove to be no different. I've had a look at some of the major marketing trends for the coming year and how you can practically incorporate them into your business.
Online reviews
Online reviews are super important to your business and need to be encouraged and monitored very closely. There are two reasons for this:
84% of people trust online reviews just as much as they would trust a personal recommendation
Google uses your ratings from both Google and Facebook reviews to determine your ranking in SEO searches
It has also been shown that when people read your reviews, they typically only read the latest 15. This means it's essential that you constantly monitor your reviews.
You can turn a negative review into a positive one by quickly responding to the person, and rectifying any issues that they may have experienced. A timely response shows that you care about your customers and builds credibility.
One way to encourage positive online reviews is to email your customers and ask them! If they are a satisfied customer they will often be happy to review you. If you have website you can also create a pop-up message that appears when your user shows the intention of leaving your site, and ask them to review you.
The most reviewed industries are restaurants, lifestyle (gyms, entertainment etc), hospitality and retail. If your business falls into one of these industries, getting positive online reviews will be especially important.
Chatbots
We're seeing more and more brands including chatbot functionality as the need for individual communication rises. Communicating with all your customers on a personal level can be impractical as it demands lots of resources, but chatbots have come about to save the day!
You can implement chatbot functionality into products like Facebook Messenger, Text Messages, Slack and more.
One way to implement this is to have a chat message pop up when someone is on your Facebook page, asking if they need any assistance. If the person replies saying that they are looking for your address, the chatbot would then reply, stating your address, and perhaps include a link to a Google map.
There's a ton on information around creating chatbots on the internet. If you would like to find out how to build your chatbot for Facebook Messenger, this article will get you started.
Collaborate to increase reach
Very often working together with another business on a similar marketing initiative will create a better outcome than going at it on your own. By combining your resources, knowledge and brands you have the opportunity to achieve greater results.
Choosing the right business to collaborate with is key. Look for a business with similar values to yours, a business you respect and whose offering will compliment your own.
Here are a couple of ways that you can leverage each other's efforts:
Include your promo code on their receipts and vice versa
Offer bundled deals (with their products and yours)
Create a promotional email with both of your content, that you can send to your respective databases
Talk about each other on your social media pages
Share a stand at a market
Run a competition together
Share the costs of advertising and co-brand
There really are a multitude of ways in which you could collaborate. Remember to be strategic about who you partner with and ensure that the outcome is beneficial to both businesses.
Mobile first
We have heard this for a number of years already, but a large number of businesses have still not taken the "Mobile First" thinking to heart.
According to Statista, the number of smartphone users in South Africa has grown from 9.7 million in 2014 to 20.3 million in 2018. In January 2018, mobile in South Africa had a 67.08% Market Share.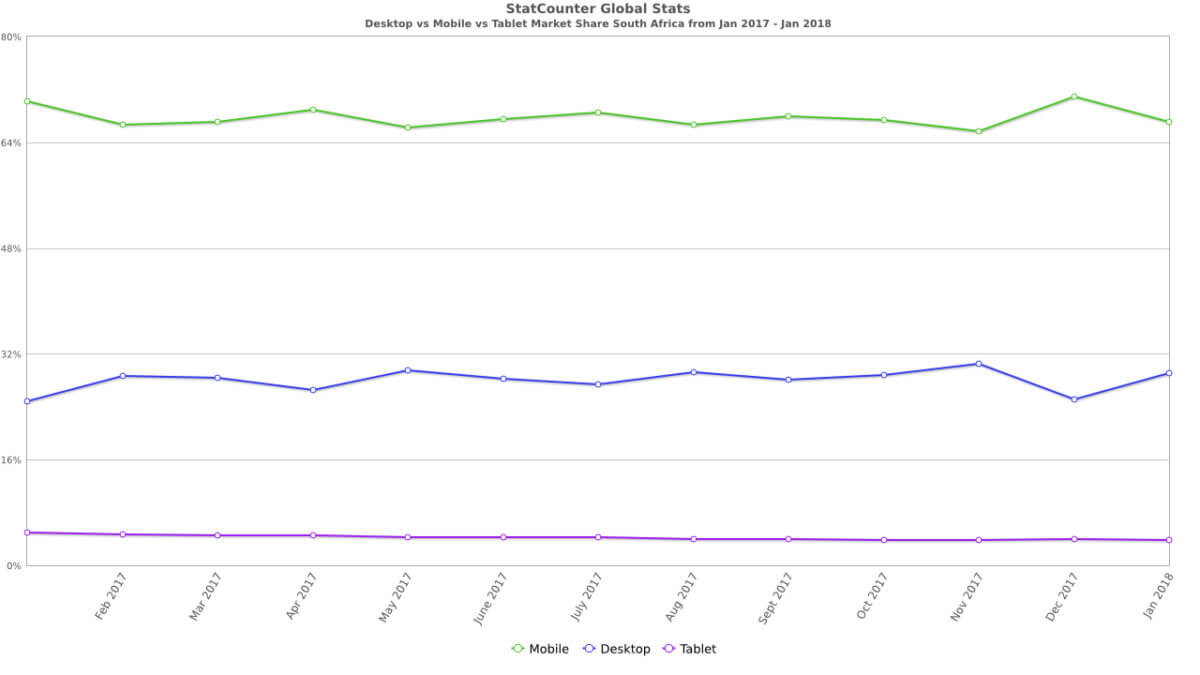 Now that we have a clear understanding of why mobile is so important, let's have a look at a checklist to ensure that you have your bases covered:
Do you have a mobile website, or at least a responsive one?
Would your business benefit by having a mobile app?
Are your emails designed to be viewed on mobile?
Do you include SMS in your communications strategy?
When you optimise for mobile, less is more. Consider the text and images on your website. In terms of SEO for mobile, Google prefers sites with more images and less text. Text that you do include should be of a larger font size. Additionally, Facebook doesn't show ads with with long description text.
Digital Video Content
Online video consumption has grown dramatically year on year, and 2018 will be no exception. According to Hubspot, 53% of people want to see more video content from brands.
Creating great video content is a wonderful way to set yourself apart from your competitors. Why not get your customers involved, and get them to create "user generated video content"? This is a lovely opportunity for your audience to interact with your brand.
Some tips that will help your video content to be more successful are:
Create transcribed video content. As much as 85% of Facebook's daily video views may be taking place without any sound. By annotating your video or including subtitles, your audience will be able to watch your video while their sound is muted. This will give you huge SEO gains, as the text helps Google and Facebook to understand what your video is about.
Optimise your video for mobile. This means that you should design your video to appear at a 1:1 ratio (a square), perfect for a mobile screen. In 2016, Facebook changed their video guidelines, ensuring that uploaded videos were at a 1:1 ratio, and this increased complete viewing rates by 67% compared to traditional 16:9 ratio content.
Have you tried to incorporate any of these trends into your business? We'd love to hear how it went! Tweet us at @Yoco_ZA.